Crafting the perfect product pitch.
It's go time.
You're here. The product team has created a new product … and they're pretty darn proud of it. It's been lovingly placed in your hands. This is your baby now, and it's time to take her to market.
But are you ready?
Everyone is looking at you kid — it's your time to shine. Walk through these 4 steps to make sure. C'mon, let's get you ready for market.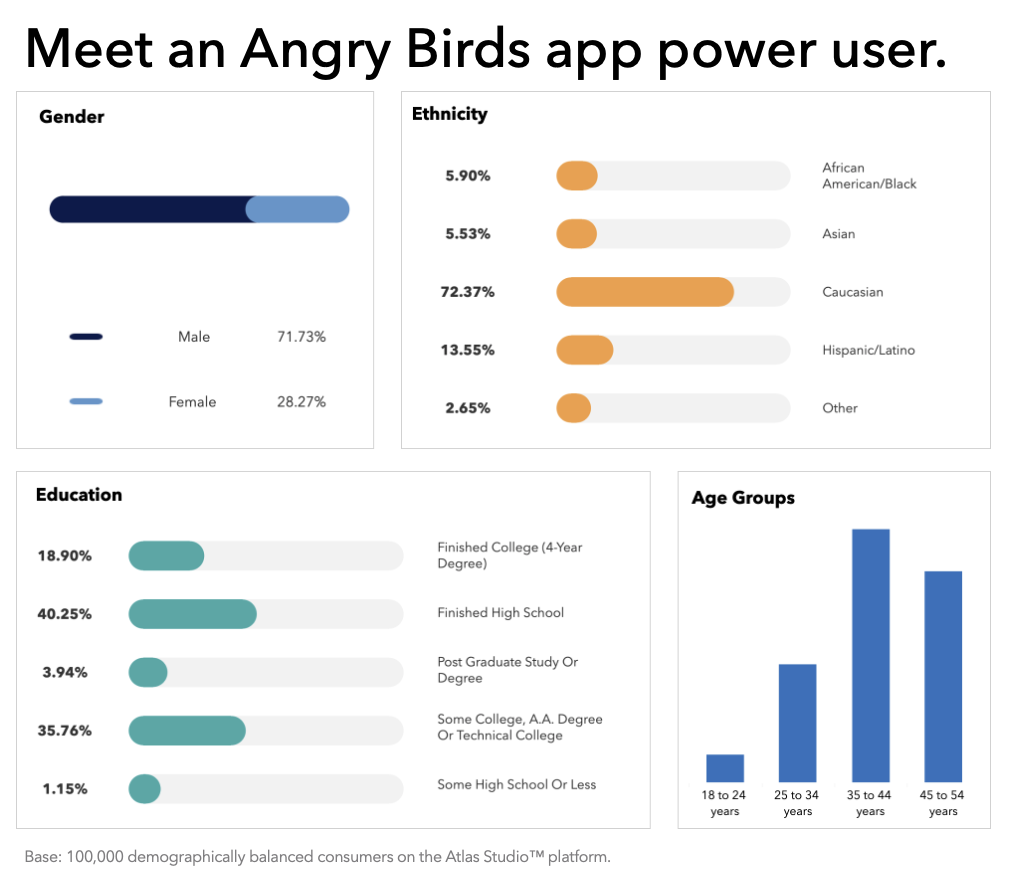 1. Product-market fit.
It's test time.
Before you leave the nest — with a brand-new MVP (minimally viable product)— be sure you've got a market fit. You can't afford to fly blind right now, there's too much riding on this product.
So, start by meeting your dream buyer.
Speaking of flying, let's look at the Angry Birds™ app. After all, your game is a direct competitor to it. Quickly, you see your target market is an older Millennial male with some college under his belt. You've refined the data to zero in on a power user, and can now spot the market needs.
Clearly, if you're looking to compete with Angry Birds, your best option is to steal the market share they haven't penetrated. This chart shows that's younger Millennials, Gen Zers, and college grads. Carve out a niche and beat them at their game. You've got this.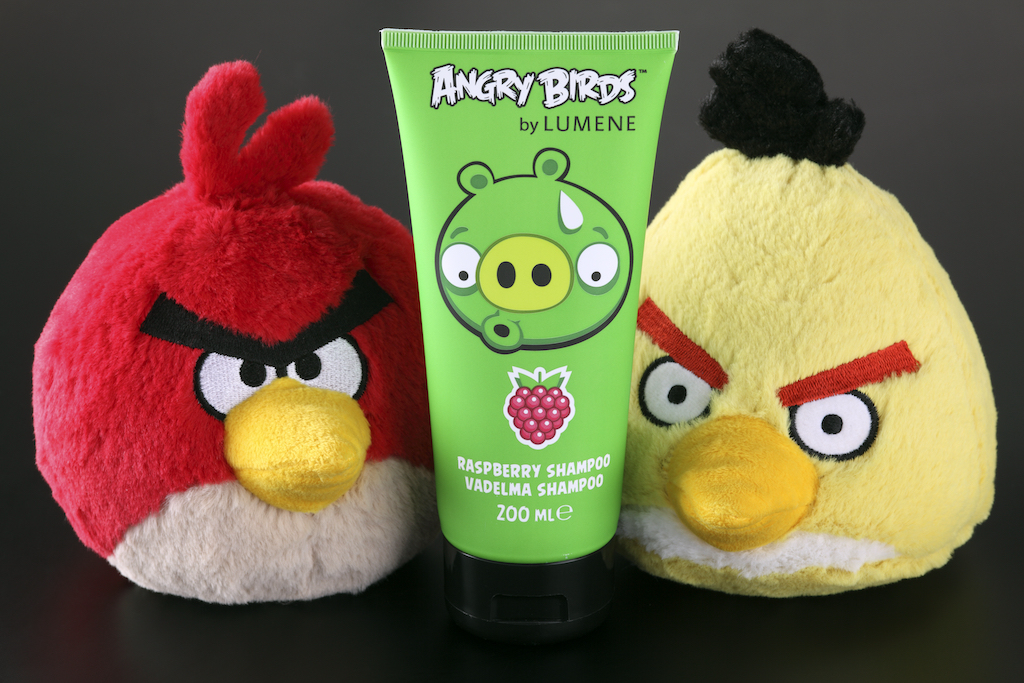 2. Pitch retailers.
Take this show on the road.
Angry Birds™ already has a strong merchandise game. So, now that your app is ready to go, you'd better be prepared. You'll want a perfect pitch on why you deserve the best shelf space, instead of them.
Be prepared.
Show retailers their buyers' foot and web traffic. Then, demonstrate how you can increase it — in-store and online. Share exactly how you'll promote the product. Win them over with your target market's app, web and in-store rankings. Everything you need to succeed is inside Persona Views™.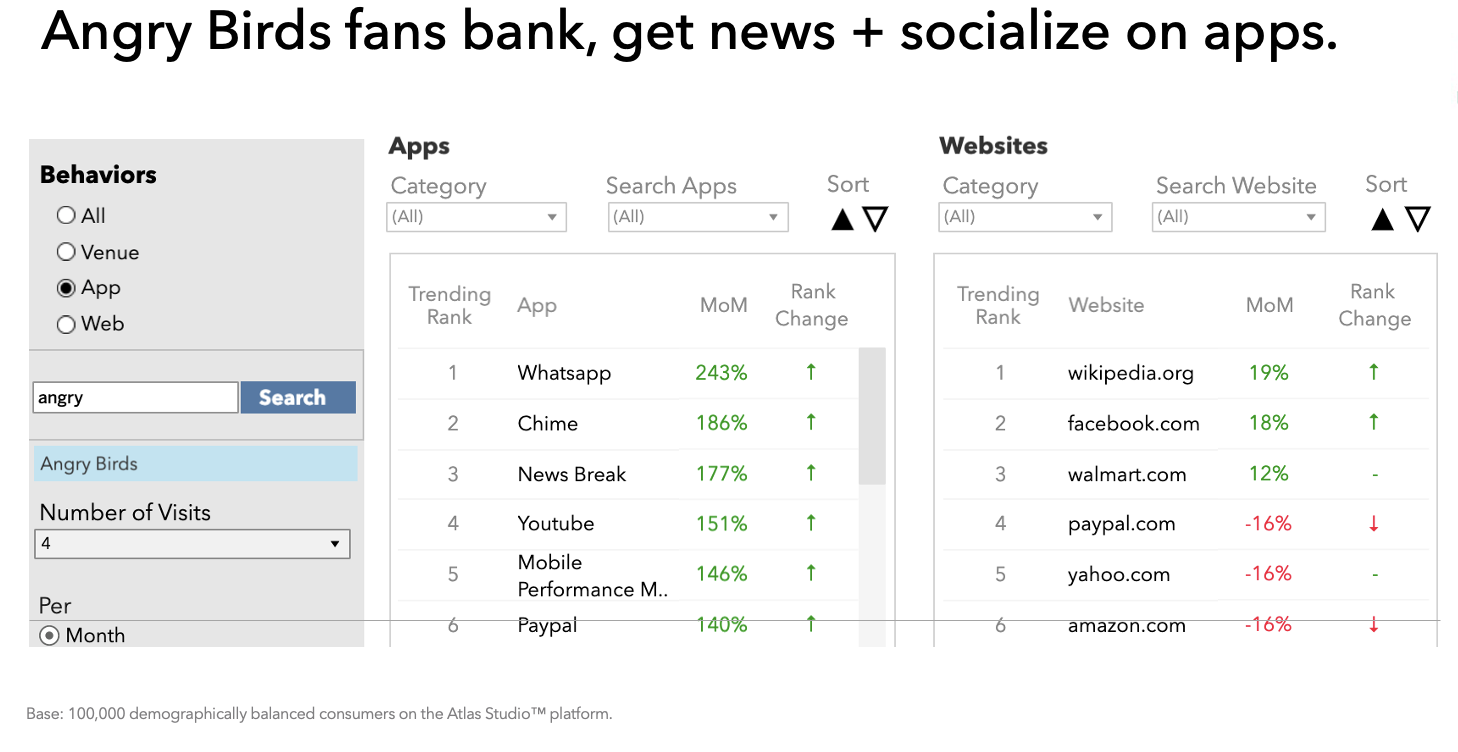 3. Promote the product.
It's all here.
Think about it. The hardest part of advertising is finding the right customers. A great ROI is easy — once you have a tailored ad that reaches buyers where they're spending time.
That's easy.
You can see every single app, site and venue they visit. On the left, we're looking at where loyal Angry Birds™ fans are banking, getting news and spending time socializing. Now, use your data to launch a killer ad campaign.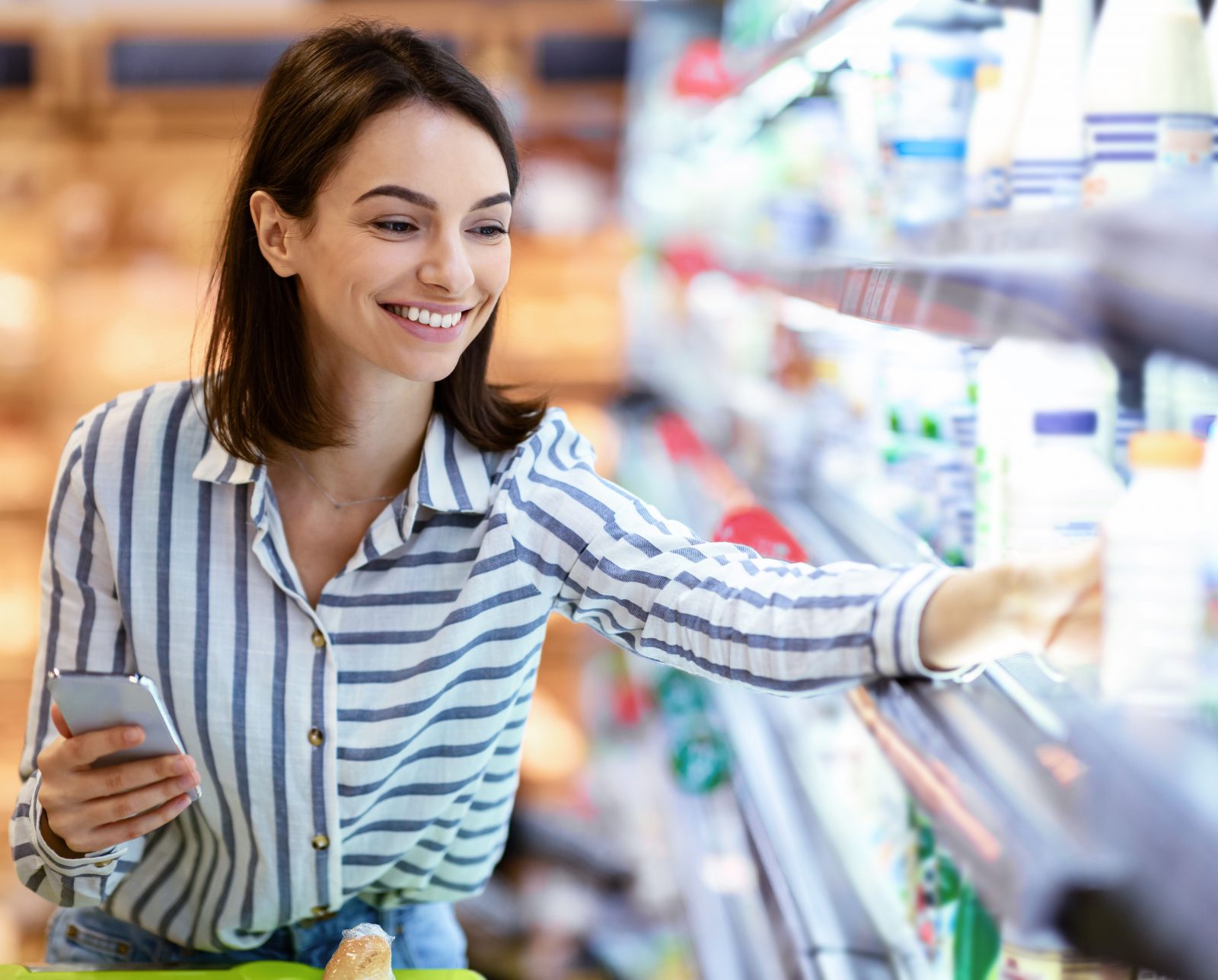 4. Time to partner.
You're almost there.
This is Sharon. She's inside 7-Eleven. That phone in her hand, could have your app on it. That's right, Angry Birds™ players increased their visits to this convenience store giant by 81% — just last month.
So, reach out to 7-Eleven.
Show them you're ready. You've got a product-market fit, you know who's missing in the market place, and you know exactly how to reach her. You can send more business their way with all of your loyal app followers. And, you win too. After all, 7-Eleven would be a great place to stock merchandise.
This, my friends, is co-marketing at it's finest.
You're in good company.
These clients, are just like you.
They place billions in ad spend every year. And, as a Fortune 100 company, need to know how to allocate their funds. These brands track buyers in-store and online. Now, you can too. Get started today.

Start your Persona Views™ free trial.