Get research at the speed of life.
Accurate, reliable data—at your fingertips. As soon as you need it.
Connect to customers and hear what drives their buy, so you can build products they're obsessed with. There's an app for that.
Surveys On The Go®.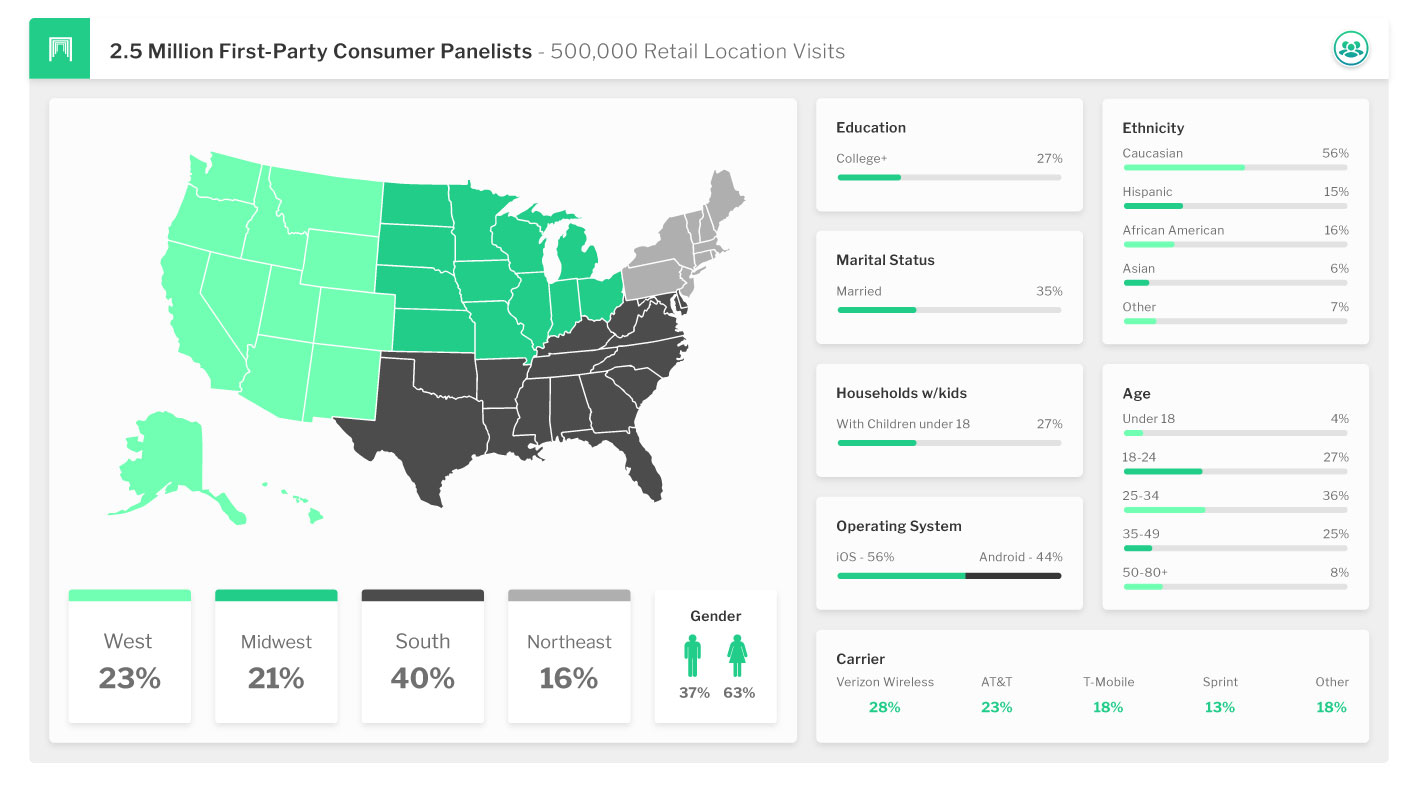 The nation's largest, highest-rated consumer panel.
It ties you directly to the voice of your customers. Find out where they shop in-stores, where they search online—and 200+ demographic data points about who they are. Get instant access to their:
GPS location.
Digital behavior.
Cell phone carrier.

Installed phone apps.

Phone make, model and operating system.
All of that data is stored in the app. Reach consumers where they're spending most of their time: their smartphones. And see how they're using them to make purchases. All of the data is in real time with 100% validation.
Now, that's power.

Use it to craft a competition-crushing customer experience. They'll love you for it. Check out some of the people who are ready to talk to you:
Millennials, African-Americans, Hispanics and Gen Z.
People who have an Android or OS operating system on their phone.
Consumers ready to share more than 10 million daily journeys at 12.5 million locations.
"Thanks for a wonderful 2019 and looking forward to an even better 2020!"
A few examples of what you can do.
Real example: a tech giant.
Goal
Goal
Unlock buying behavior.
To do it, a top tech company set up an exit survey to speak with people leaving retail locations to see who planned to buy a computer. MFour was the chosen research provider. Click on "Approach" and "Results" to see what they did, why they did it and what they learned.
Approach
Approach
The Surveys On The Go® app recruited natural shoppers.
Computer buyers were identified in our consumer panel. Participants were sent a 10-minute survey asking about how they researched their purchase before they went to a store. Their responses were matched to behavioral data.
Results
Results
Online research influences brick-and-mortar buys.
Buyers are going onto websites and shopper apps to find their next computer. A computer is not a small sale. Not surprisingly, they found that their consumers conducted a lot of research ahead of time.
But, here's the value.
With behavior-driven research®, they were able to actually compare what consumers did in-store versus what they did online. Not only could they tap into the brand consumers wanted, but the promotions they'd seen as well. It opened up a massive opportunity to convert shoppers.
Get Real-Time Opinions + Behaviors of Tech Buyers
Talk to your buyers, right now.
Get projects done fast.
See 10 million, daily journeys.
Collect in-store + online behavior.
Talk to real, first-party consumers.
---
Trusted by leading organizations.