In retail, Walmart reigns supreme.
Across the channel, in eCommerce, Amazon rules with an iron fist. In fact, 60% of in-store shoppers view Amazon as a monopoly. Clearly, each side has a strong handle of their court.
And, they've never really gone toe to toe.
Until now…
Walmart's ready to joust.
Prime risks losing 49% to Walmart Plus, starting on Sept.15th.
49% is a lot…But, while Plus is a new app, Walmart's not a new kid on the block.
In fact, Walmart's sitting pretty.
With more than 50 years' experience, and a 400B market cap,1 the retail giant dominates its competitors. And the pandemic only boosted their position. While others struggled to keep up with the demand for groceries and necessities, Walmart's online sales grew 74% in Q2 of 2020.
Let's take a look at how they'll compete with Amazon Prime.
Meet Walmart Plus…
In true Walmart fashion, the Plus app is slightly less than Prime ($98/year vs. $119).
Price isn't everything.
In fact, we asked our consumer panel what would make them switch. Want to know what they said? A full 35% liked the idea of being able to access items in-store. That's something Prime just hasn't figured out yet. They're just not retail. Meanwhile, Walmart has 4,700 stores across the U.S. What's the next biggest reason? Gas: 29% want a gas discount from Walmart Plus.
So, should Prime really start to worry…?
Here's what Amazon and Walmart shoppers say.
According to our new survey of validated Amazon Prime users and geo-validated in-store Walmart shoppers, 49% are likely to try the Walmart Plus app.
Why?
Well, 27% are interested in competitive shopping with Amazon, 18% are already Walmart app shoppers (on the current walmart app), and 17% want more product options…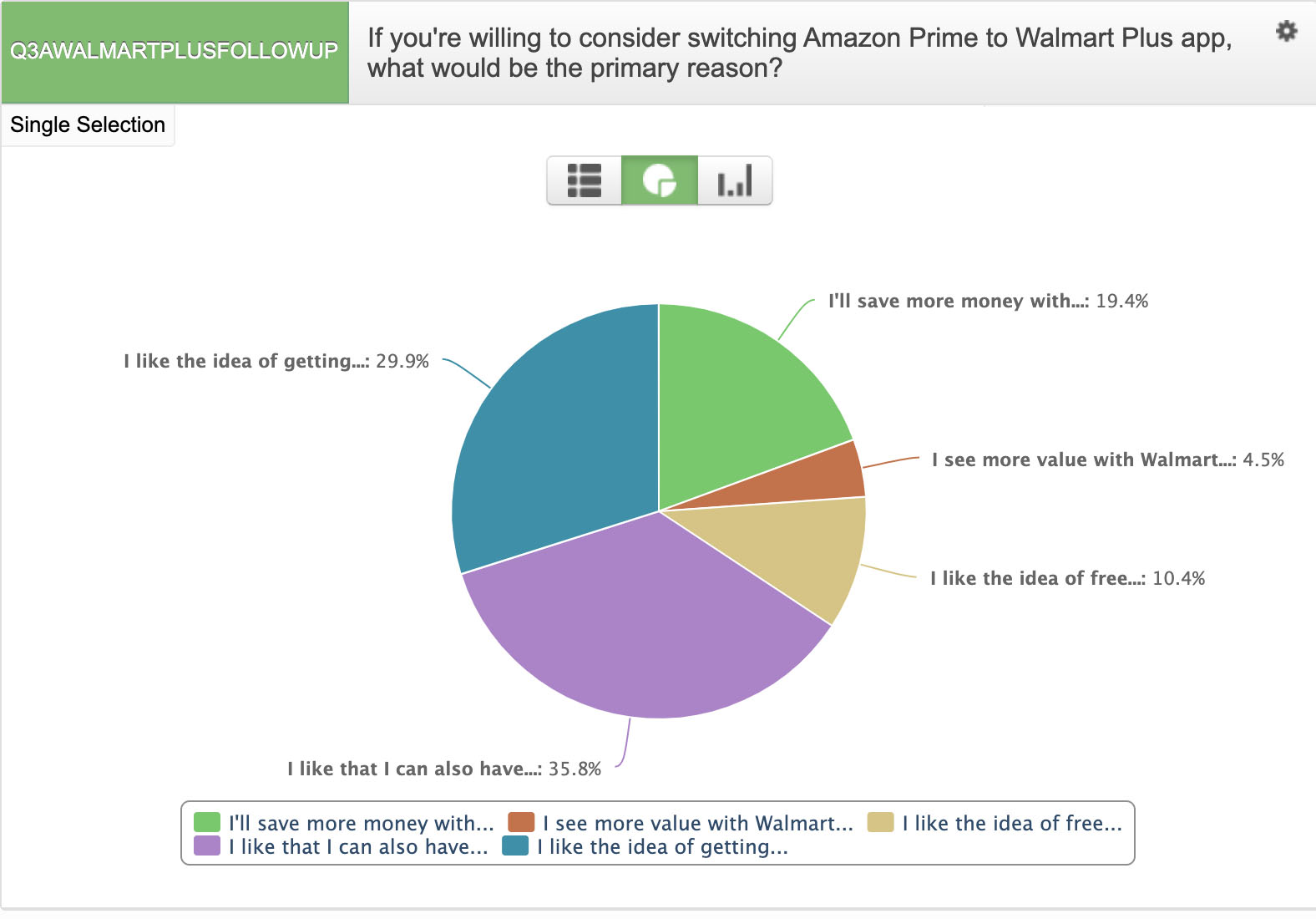 These answers are directly in line with Walmart's strengths.
I like that I can also have access to in-store items (36%).
I like the idea of getting discounts on gas (30%).
I'll save more money with Plus than Prime (19%).
I like the idea of free shipping on certain items (10%).
I see more value with Plus than with Prime (5%).
The retail giant already committed to unlimited free deliveries from any U.S. store, and as much as 5 cents off each gallon of gasoline at Walmart, Murphy USA and Murphy Express fuel stations.2
So, how much opportunity is there?
A million app converts = trillions in sales.
Consider this.
51% of Amazon prime users spend $100-500 per month with Amazon.
51% of in-store Walmart shoppers spend $100-500 per month with Walmart.
That means, half of all app converts are potentially worth $1.2-$5.8k per year.
If just 1 million users convert, that's 1.2 to 5.8 trillion worth of annual gross sales.
If 10 million users convert, that's 12 to 58 trillion worth of annual gross sales.
The opportunity is massive, and when we dig deeper we can see key areas for a critical attack.
The battle for a better customer experience.
Amazon wrote the book on customer experience.
As early as 1999, Jeff Bezos could see the future of his company.3 Journalists weren't allowed to pigeon hole Amazon as an internet company. And with their speedy delivery and easy returns, it's easy to forget that Amazon doesn't have a large brick + mortar presence.
But, while Amazon improves experience, Walmart is branching into brand-new territory.
Walmart Plus wants to be the low-price leader everywhere.
Remember our gas lovers?
29% said they'd consider switching apps just to get discounts on gas. This means Walmart will not only compete via app and in-store, they'll also compete "on the go".
Shoppers are people, and people need to go places. All the time. Which means they need to stop for gas, regularly (except for those on the Tesla train).
With Walmart Plus offering discounts at certain gas stations, it keeps them top of mind as a low-cost leader, even if it's not Walmart products.
Will this will impact you?
Yes.
Especially if you sell on Amazon or in Walmart.
We asked consumers, "for EACH category below, please share WHERE you're most likely to BUY the product? I plan to buy…"
See their grouped responses below: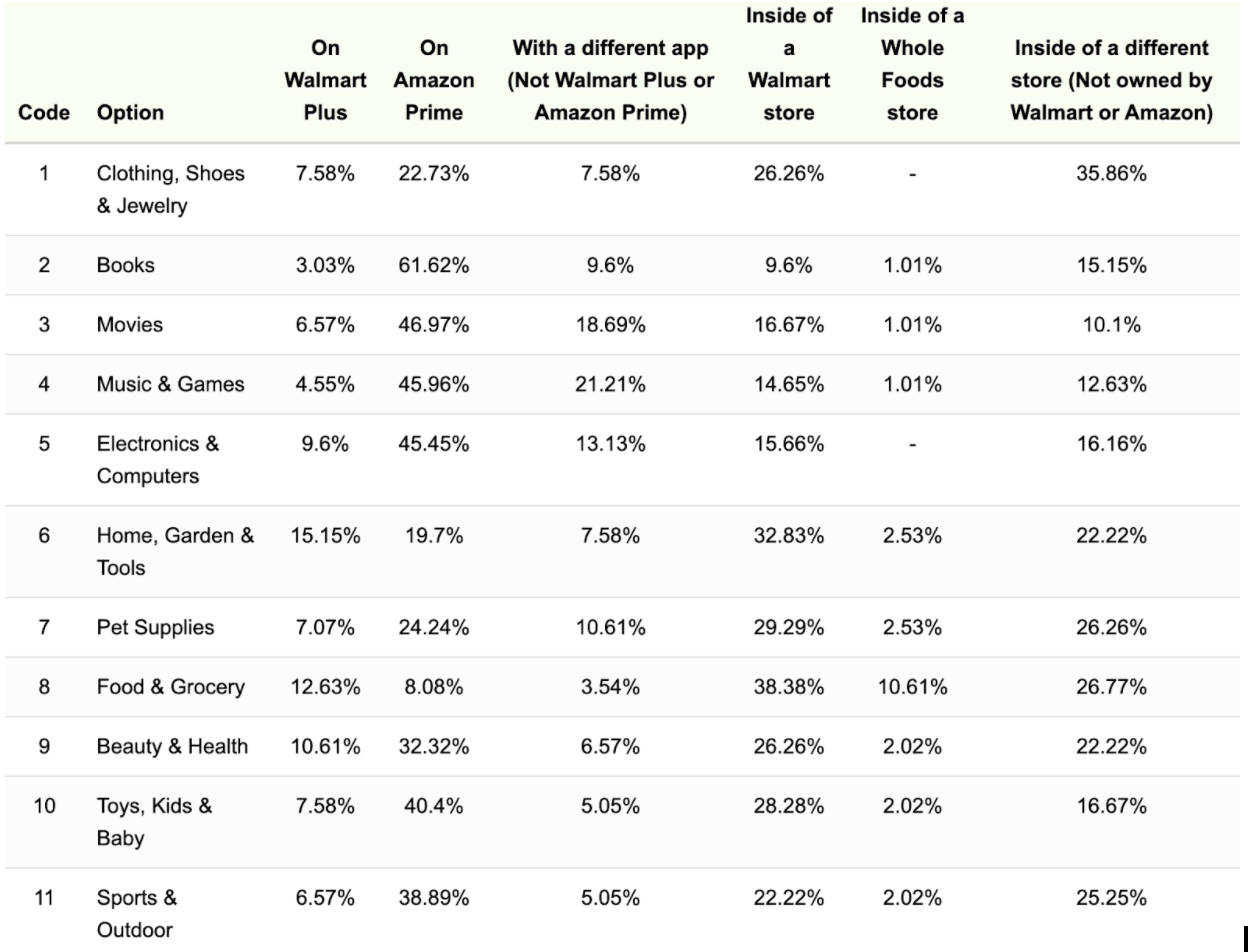 So, now what?
Walmart reported $514 billion in revenue last year.
That's nearly double what Amazon brought in. And here's the truth. eCommerce will continue to grow. In fact, 61% of people are shopping on eCommerce more than 30% of the time since COVID-19. It's not going to change anytime soon. So, Plus is going to do well. It's a given.
Think about what it means for your business.
Are you studying eCommerce trends—and ready to compete in your own sector? If not, this is the time to take stock of the market and get started. Our market has shifted. This is the time to tackle sales challenges head-on with real consumer opinions. Need help? Leverage the most sophisticated consumer targeting in market research. Meet our consumer panel.
Research was conducted comparing app + web visits to brick + mortar visits by MFour's consumer panel. Examined September 4th through 7th using the Surveys On The Go® app.
For a full copy of the Research click here to email MFour. Please note your request is for Walmart Plus research.
References:
"Walmart's answer to Amazon Prime is cheaper and has gas discounts." (Washington Post)