You heard that right.
It's not "if" PayPal will replace cash — but "when". But, where's this coming from?
Well, we already know 73% spend money via apps.
So, it was time to speak with 200 PayPal and Venmo consumers to understand their shift to mobile app payments. After watching them leave these apps, we sent a survey. And, I can tell you…they think cash is a thing of the past.
Here are 3 reasons why.
Reason #1: It's familiar.
Branding is the foundation of familiarity.
And PayPal is comin' in hot — even if 6% of this group isn't familiar with PayPal. Now, that's interesting, huh? It may be that Venmo users aren't aware PayPal owns them.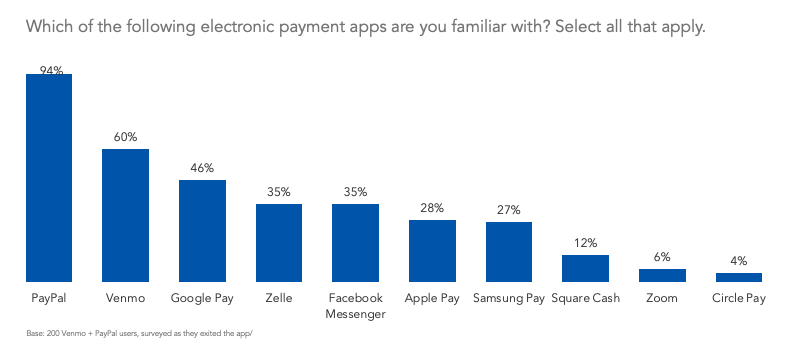 Either way, it's not stopping PayPal.
Think about Bandaid and Kleenex for a sec. When was the last time you asked for a bandage or tissue? Exactly. Their brands are so strong, they're actually nouns now.
If PayPal can reach that level…cash has no chance.
They've already got a following…Right now, 66% of the people we spoke to prefer their mobile app payment to cash or credit card. This isn't a phase either, 8 in 10 people have used a mobile payment app for at least two years.
So, it's not a trend.
Electronic payment apps are very top of mind for these users. In fact, 43% use a mobile payment app weekly. They're in such high demand, 34% say it's very important to have multiple payment apps – an option for every scenario.
Payment at the push of a button.
Speed at its finest.
Reason #2: It's instant.
This isn't business, it's personal.
You love instant gratification, so do I. And everyone loves speed when it comes to money. So, with 94% of the people we spoke to on PayPal for personal use, instant access comes in handy — 49% are here to pay back friends.
Here's what else they're doing…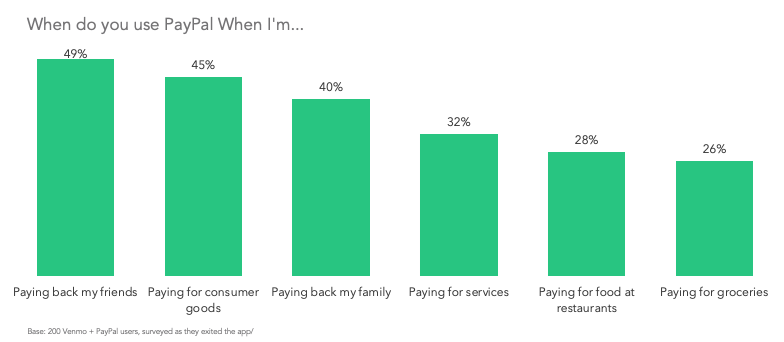 Why are there so many use cases?
Well, it's simple.
Yes, 72% use PayPal because it's easy. Think of it this way. You spy a beautiful red sweater online, a must-have. You're going to buy it. But first, you have to make a choice. You can walk to your purse… and fumble through gum, cough drops, and kid toys until you find a credit card…
Or, you can just log into PayPal.
It's easier.
Maybe that's why 43% of PayPal users hand over the app at grocery stores, and 42% use it at restaurants and retailers. With more places adding app payments each day, it's easy to see why the group we surveyed loves it. Already, 52% use it in lieu of cash or credit.
Imagine what will happen when all merchants accept it…
We'll see the death of cash and credit.
Here's why.
Reason #3: It's secure.
That matters.
73% of PayPal users say it's their go-to payment app. They're relying on the safety of the app and that's important.
Why? Well, because 15% choose to use a mobile app payment for its security. If you've ever lost a lot of cash or had your credit card stolen, you know how valuable that is.
Peace of mind.
Not only are mobile payment apps familiar, easy and instant — 37% use them because they're secure. At this point, you may wonder, "if everything is so positive, why hasn't PayPal already replaced cash?"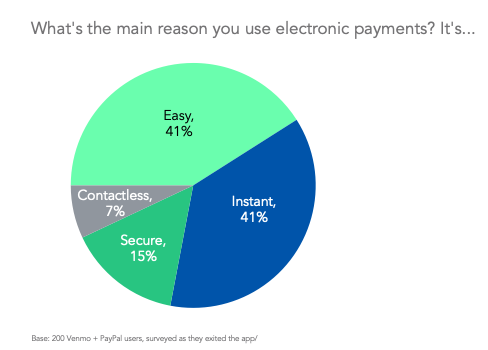 Timing.
Those we talked to, who don't use PayPal — or other app payment options — as often, can't because it's not as widespread. Yet. Give it time and you'll soon see buyers getting rid of credit cards and killing cash.
It's a matter of time.
Now what?
This is what your buyers want.
61% of PayPal and Venmo users believe mobile payment apps will soon replace cash/credit cards. Now is the time to prepare, as cash may not last another 5 years.1 Do the work now, so you're ahead of the game.
This is market research. You can actually survey the same group of people we spoke to here. Or, grab a whole new group of consumers to dive in deeper, based on the app behaviors you need to understand.
Stay on top. Use consumer behavior to stay a step ahead of your competition.
References:
https://www.retaildive.com/ex/mobilecommercedaily/mobile-payments-to-replace-card-payments-but-not-immediately-report