An open letter to the maker of Milanos.
Dear Pepperidge Farm,
Please make my dreams come true.
How?
Well, it starts with a snack. A missing variety pack to be exact. Filled with Milano cookies and Goldfish cracker bags. Before you ask, I've done my research. This is a snack the people want.
Hear me out.
I'll give you three reasons why this is a great idea.
Reason #1: You're a bit behind.
Picture this.
A woman walks into a grocery store. She quickly peeks down the cookie aisle. It reveals three brands: Oreos, Chips Ahoy and Milanos. Which one will she choose — and why?
Turns out, if she walked into Albertsons or Kroger:
44% will go for Oreos.
32% will choose Chips Ahoy.
And, 20% will want Milanos.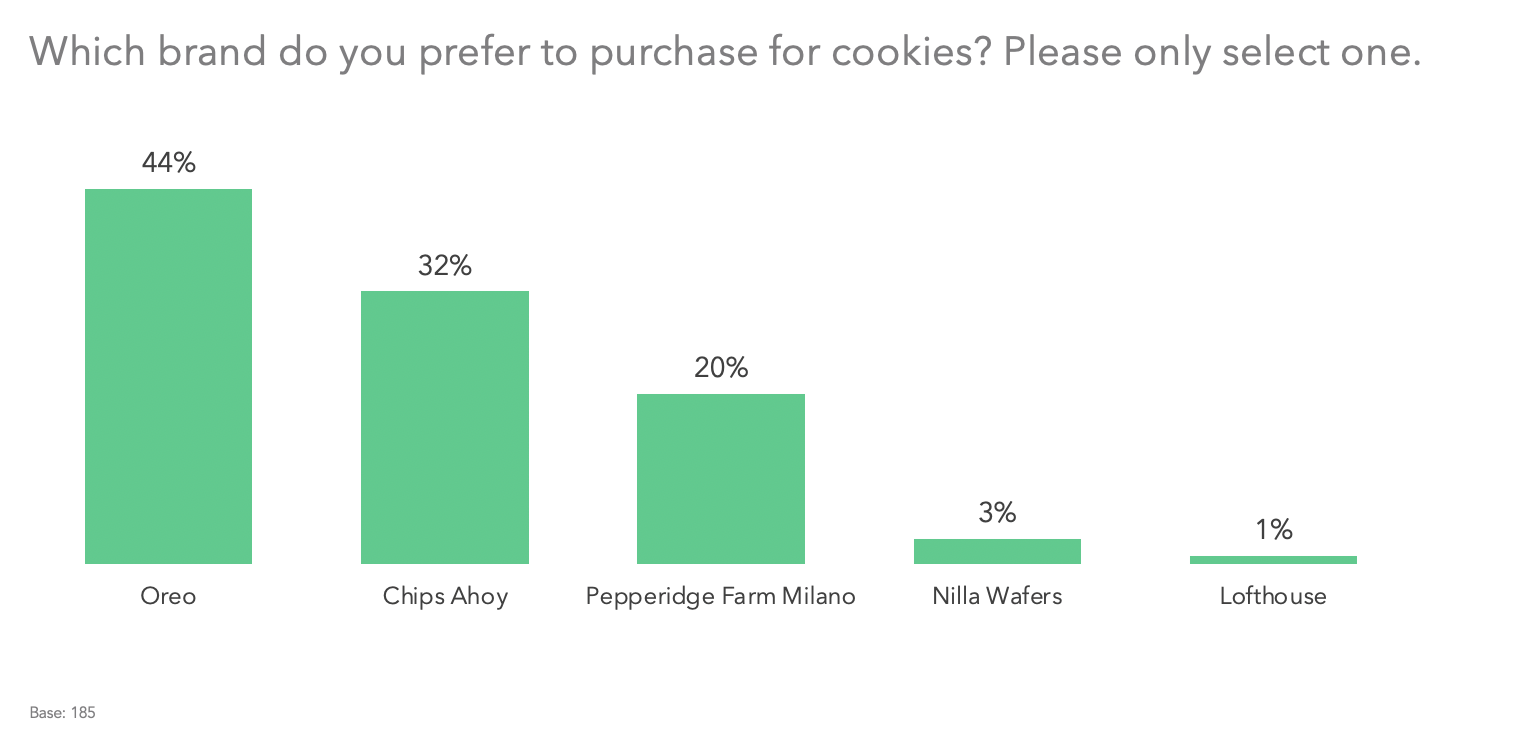 Oreo is the top cookie.
In fact, 82% buy the brand based on taste. But a snack pack could change all that.
Here's why. See, 83% buy cookies at the grocery store and 72% get them at big box stores. Meanwhile, 76% buy crackers at the grocery store and, like cookies, 72% get them at big box.
So what?
Now, imagine a Pepperidge Farm snack pack with both salty and sweet options. Perfectly pairing two markets + two products in one box — Goldfish + Milanos — a new variety pack.
Beautiful.
You hit grocery store shoppers, cruising down the cookie aisle. And, at the same time, you'll reach the moms hurriedly scouring Costco for snacks. A flawless fit in both retail categories.
There's more.
Yes, more market share to gain. Think about the crackers too; buyers know Pepperidge is the maker of both Milanos and Goldfish. Yet, when it comes to crackers, 35% prefer Ritz, 34% Cheez-Its, 13% Club Crackers — and Goldfish comes in 4th place at 11%.
Smell that?
It's an opportunity, and it's waiting right here for you.
Reason #2: You're a natural fit.
Here's a question.
Do you know what 73% of shoppers did this week?
If you said "they bought a big bag of family-size snacks, silly" — you're right. Better yet, 37% of them actually bought a variety pack. Even better…
Now, that's the group we want.
So, let's dig in deeper.
Nearly half of our audience, 49% to be exact, will buy variety packs 1-2 times per month. That's a pretty good number. But, if you're still not convinced that you should mix these two markets, then you should know 61% bought cookies in their last variety pack.
Hmm…we're onto something.
Milano is a well-known cookie. Now, picture those Milanos pushing Pepperidge Farm's new variety pack into new mouths. How? Moms. Yes, the key is selling to moms. Give them a snack pack they can love reaching into, as much as their kids do — and you've got a winning formula.
Reason #3: Moms want it.
Hangry.
If you've ever seen a two-year-old's raging temper tantrum — you know this word, all too well. It can be cured; but you must move quickly, like the 46% of grocery shoppers buying variety packs for their kids.
Hear that?
Yup, it's opportunity knocking — again. Because right after taking care of their hungry little humans, 68% of parents will dig into that very same variety pack. To fuel their own needs.
Now, picture this.
A cameraman zooms in on an adorable family. They're all cozied up in the living room, laughing at the TV screen, watching a movie. Mom's happily snacking on her Mint Milanos, while the kids munch on their orange, fishy-shaped Goldfish crackers.
You can make this made-for-TV moment a reality.
It's what the people want — 71% say they'll purchase a variety pack of Milanos and Goldfish.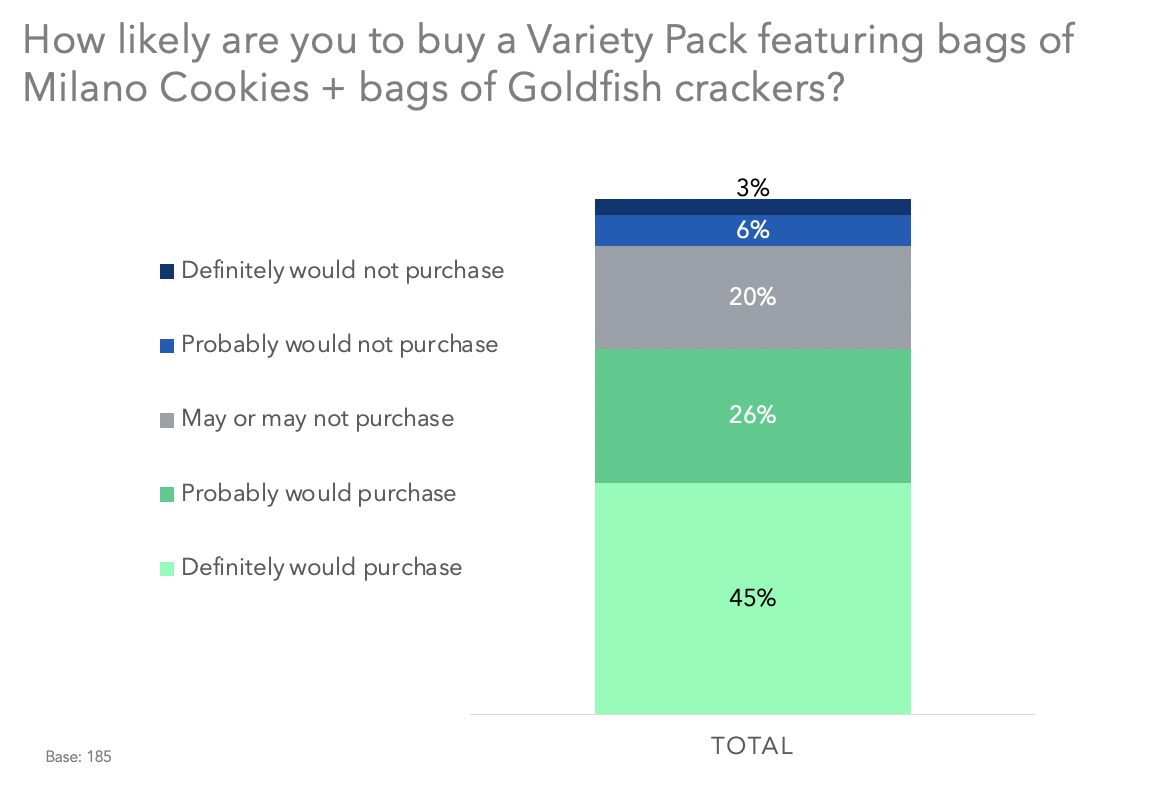 Yes, the Milanos will be consumed first, by 53%. So, make sure there are plenty of individually wrapped Milanos in the snack pack.
And, where will they devour their treats, you ask? In the living room. That's where 69% plan to eat their Milanos and 66% will be waiting to gorge on Goldfish.
You just made everyone happy.
Mom's got her Milanos, and the kids are grubbing on Goldfish.
…All thanks to you…
Your new variety pack brought this sweet family together. After all, 90% want multiple snacks to choose from, so the power is in your hands. Help parents — and kids — at the same time.
Bring us a variety snack pack.
I'll be waiting… 😋