It's a scene from a bad movie…
You know the one, kinda post-apocalyptic, Y2k-ish even. Everything's falling apart — and we're sitting here, gripping onto the edge of our seats. But, in this pandemic, no one's coming to the rescue.
We have to save ourselves.
…Don't worry…
You have the data, and that's a great start.
For 15 months, Persona Views™ has studied pandemic grocery buyer behaviors. Watching closely, and waiting patiently — for the day when the world reopens, and companies need consumer trends.
So, take a look, it's all here.
Before, during + after the pandemic.
Before.
A tale of two realities.
Then, and now. So much has changed since 2019. Before COVID, 60% of the population shopped for groceries exclusively in-store. We looked at 1,500 people, and here's what we found:
13% shopped half + half.
3% shopped mostly online.
1% shopped completely online.
Figure 1: Grocery shopping before COVID.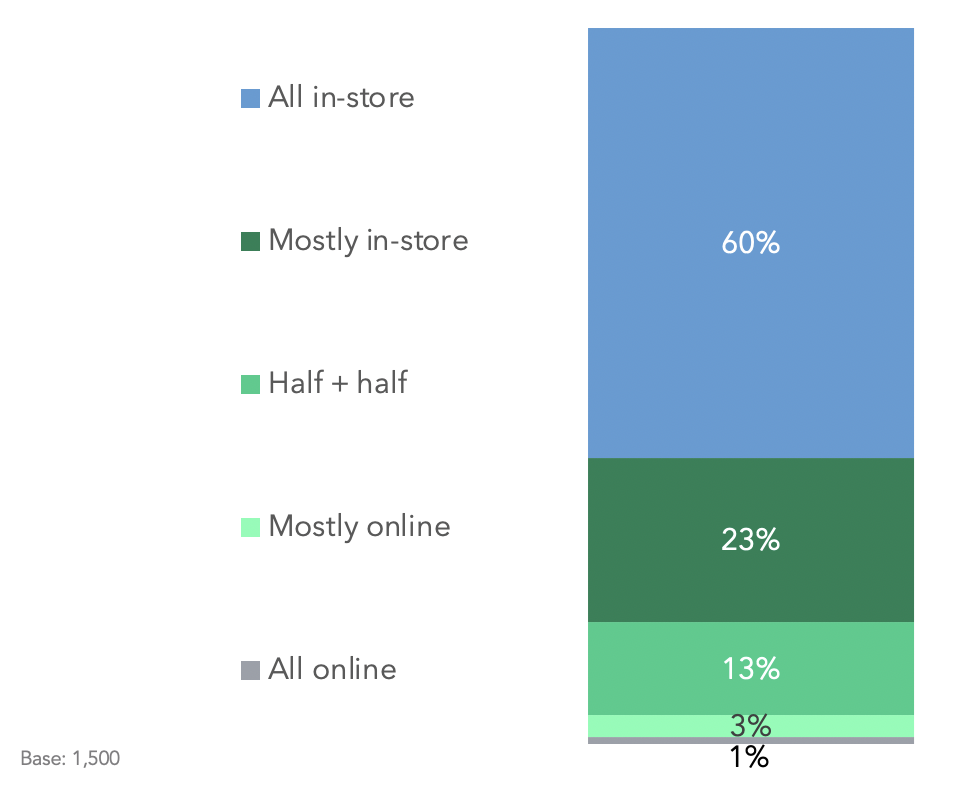 How did you shop for groceries before COVID?
Clearly, online grocery shopping wasn't really a thing before COVID.
Then, everything changed.
During.
Okay, here you go…
You already know big-box store visits went up last year, as people scrambled to stockpile. No one can forget the toilet paper (t)issues 😉.
But, wait 'til you see the massive shift — in online shopping.
Target is a great example. In the chart below, you'll see Target's nationwide behavioral data collected from an app over 13 months. The online traffic is in blue and brick + mortar trips are in green.
Figure 2: Daily visits to Target: online + in-store.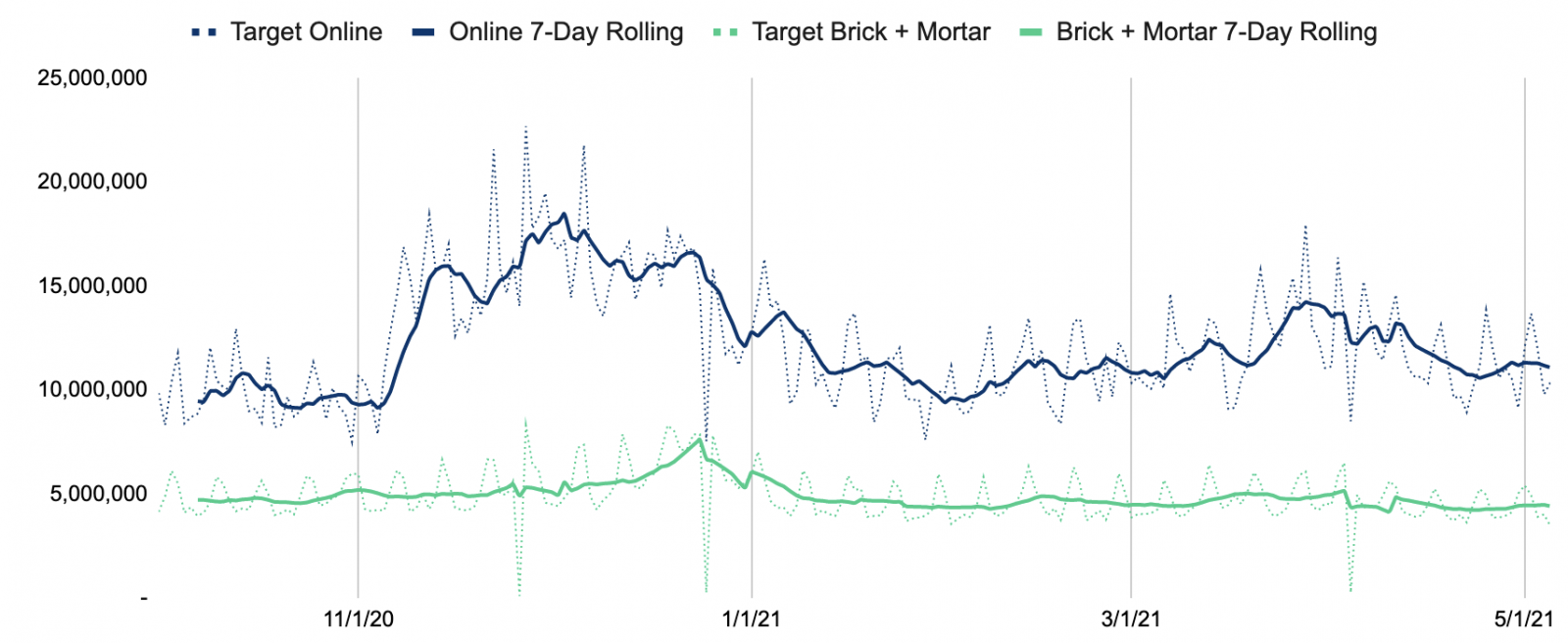 Do you see that?
Look at Target Online from the start of October. Now, compare it to the last 10 days of the chart. You're seeing an average of 2.4 million visits/day, or a 24% increase in web traffic. Meanwhile, in-store only has a 3% increase during the same time period.
Online is 8x higher.
Let that sink in for a moment, an 8x increase, incredible. Ready for more?
Good — we'll keep going.
We asked the same consumer panel for attitudinal data. And what we found is gold — foot traffic (Figure 2) is completely in line with their stated survey data, below. It means one thing: online shopping is here to stay.
During COVID:
25% shopped half + half — (a 2x increase, from before COVID).
19% shopped mostly online — (a 6x increase, from before COVID).
9% shopped completely online — (a 9x increase, from before COVID).
So, what's in store 😉 — for the future?
After.
Glad you asked, we did too.
For starters, we're seeing an evolution. With in-store visits returning, and online shopping not changing anytime soon, a true omnishopper is emerging. Buyers want it all — to shop wherever + whenever they want to.
Here's what they expect after COVID:
28% to shop half + half — (a 2x increase from before, and slightly more than during COVID).
11% shop mostly online — (a 4x increase from before, but slightly less than during COVID).
4% shop completely online — (a 4x increase from before, but slightly less, than during COVID).
You can see, they don't plan to change their habits much, from during COVID.
Figure 3: Grocery shopping before, during, and after COVID.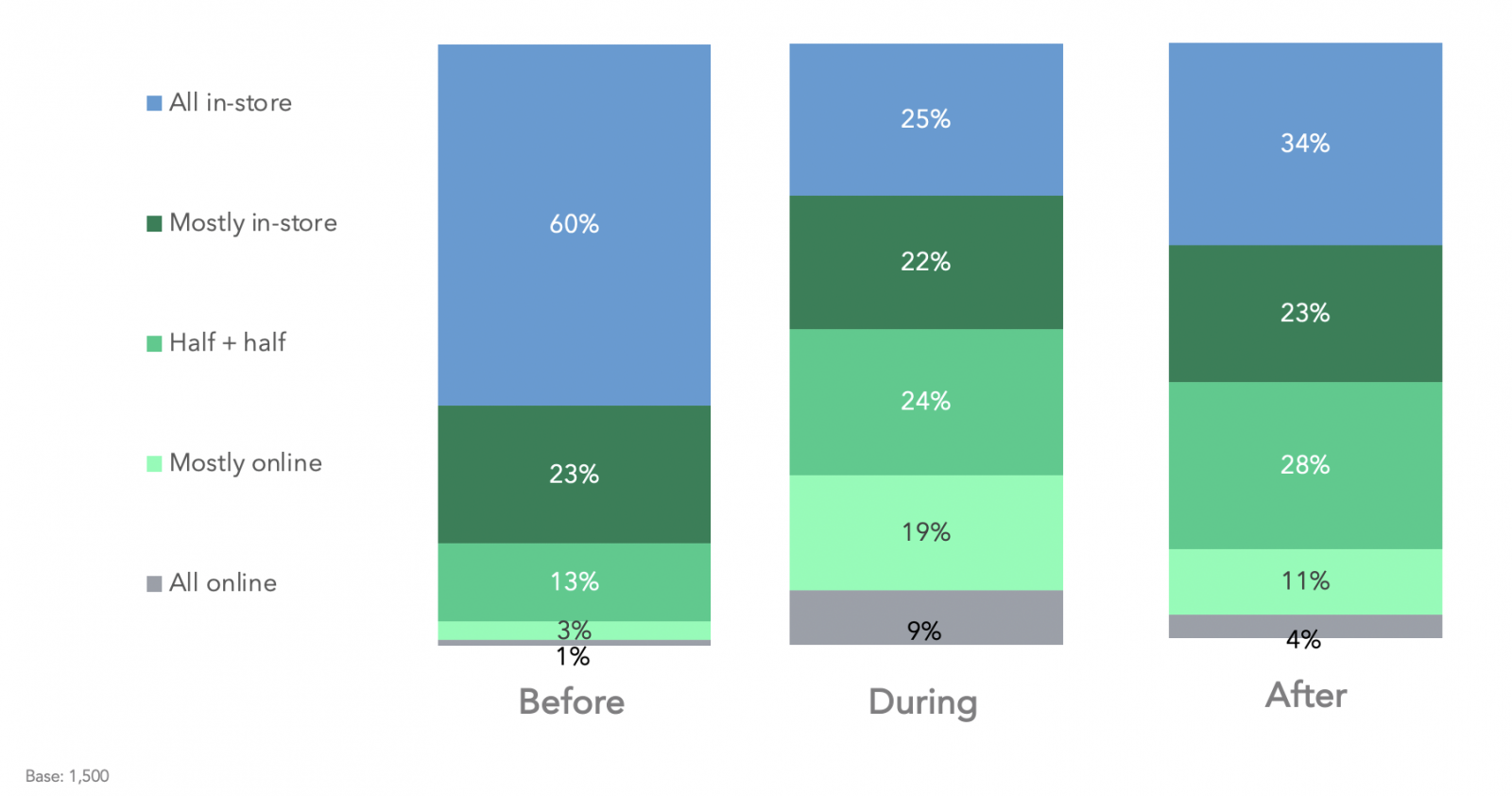 Buyers love convenience.
In fact, those who'll be grocery shopping online more after COVID — 69% — say it's just easier and more convenient than going in-store.
But, they still love regular shopping.
When asked, 66% say they prefer to shop in-store, over both online and curbside delivery. So, here's what you can expect. Buyers will keep researching online, and buying in-store, especially for big purchases.
It seems, after COVID, we can all agree on one thing…
Omnichannel shoppers aren't going anywhere.
Now what?
It's go time.
Time to build up your go-to-market playbook. Grab ahold of omnishoppers in these 3 steps:
Set up your inventory allocation.
Optimize your online experience.
Build the right partnerships with eCommerce platforms.
You're in charge.
It's time to invest in research — and crush the competition. With the right data in hand, you'll do just that. Beat the game by giving buyers exactly what they want. Get out there, and make it happen.
Need help? Send an email.