The current inflation rate is at it's highest since 1982.1
Ouch.
Let that sink in a bit. Inflation is the highest it's been in 40 years. In 2022 alone, we soared past 8% – tripling the standard 3% rate from that time.2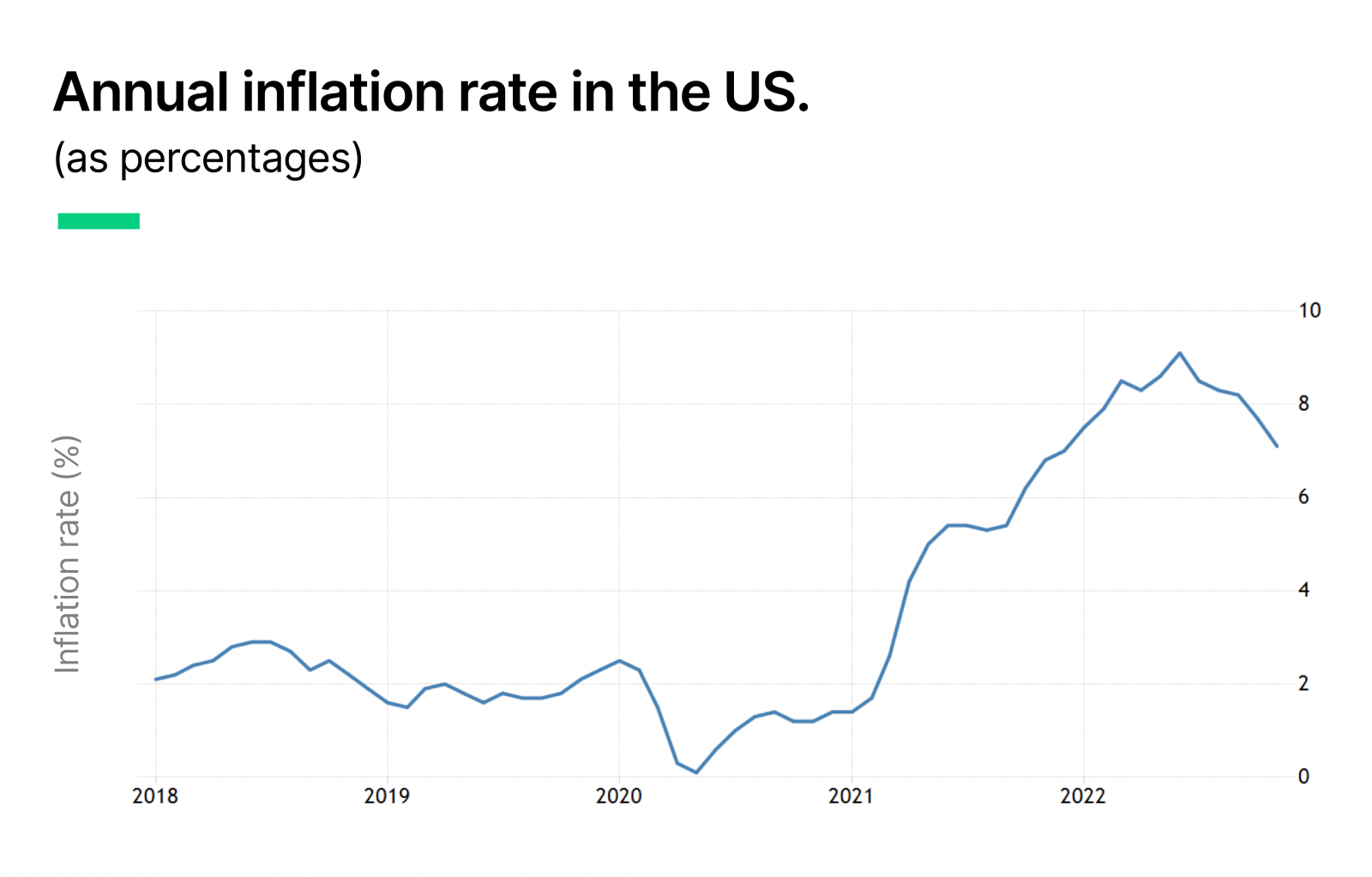 Buyers have less to spend.
Grocery bills are too high — even as shoppers buy less. Prices won't seem to stop spiking in spite of high demand and supply chain disruptions.3 Consumers are about to hit a breaking point.
Or, maybe they already have.
Here's the truth. As people see food and gas prices soar, they get more selective with their spending. If buyers spend less time in stores, it means that retailers and brands will have:
Too much stuff to sell, and …
Not enough people to sell it to.
Unfortunately, that's exactly what we see through the behavior data with MFour Studio.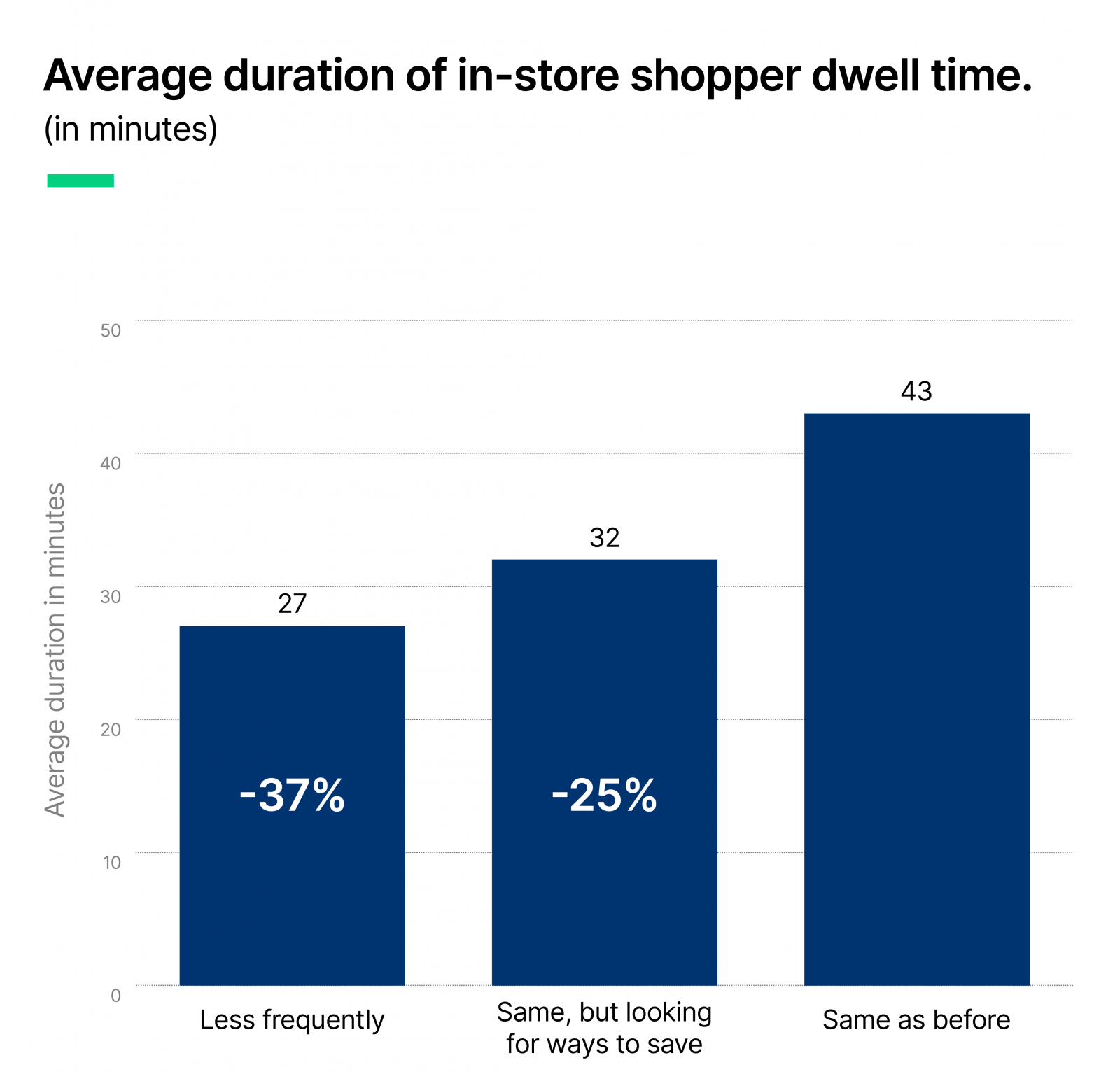 Dwell time is down.
The people who are shopping less often, are also spending 37% less time in-store (than those spending the same amount of time shopping). They're not alone. Those who are shopping the same, but looking for ways to save, also spent 25% less time in-store per visit. The simple news is this – inflation hurts overall visits – and cuts down your in-store time, too.
You're fighting a two-headed monster.
It's time to protect your profits.
With visits and dwell time down, you'll want to narrow the focus to these five things:4
Revenue.
Inventory.
Margins.
Storage.
Cash flow.
Protect your revenue by maximizing every chance you get. Your goal here is to convert buyers as soon as they step in the door, as you may not get another shot. Capitalize on every visit. Don't be afraid to use coupons and incentives to drive store traffic and eliminate extra inventory.
Your goals now are to keep steady cashflow, all while keeping storage costs and inventory down. Remember that your margins are at stake. So, don't go so low in your discounts that you hurt your profits. Find a comfortable amount that you can offer, and drive traffic with in-store signage. Save your big discounts for the inventory you want to move the fastest, and get strategic about where you place your high profit items, physically, next to your sales…to keep margins high.
You may have heard cash is king. That's true. But, when it comes to inflation, you'll never get to see that cash, if you don't focus on consumer feedback, first. So, don't use this time to pull back on analytics. This is the time when you'll need it the most.
Connect to your consumers with 24/7 Fair Trade Data®.
Put consumers first, with real-time feedback.
"You have to understand what the consumer wants more now than ever," Liza Amlani, Retail Strategy Group. 5
She's right.
As you look around at what to advertise, and how to adjust, don't forget about your buyer. Every decision you make must appeal to her, first. You need a thorough handle on how inflation is affecting your business, individually, not just the industry as a whole. This is your chance to beat the competition. Find what you're doing best, and then share it with the rest.
It's easy.
You can see shopper behavior data in-store and online in real time on MFour Studio. This is new technology. It wasn't here pre-pandemic, so take advantage while it's still fresh (before your competition does). Identify your target market and then get busy. Tie their data to your in-store traffic and promotions. Find out what's working and change what isn't. If you need help to adjust your strategy, send your consumers a survey. Use their Fair Trade Data®, and get instant feedback to protect your sales. Stay two steps ahead of the competition; be smart, and don't let inflation hurt your profits.
You can start right now.
Today's data was brought to you by MFour Studio, the world's most powerful consumer insights platform. Try it, free.
References: