Buyer concerns are lifting.
Consumers are starting to evolve their quarantine behaviors. As they do, their changes need to be tracked, so that brands can capitalize on their needs—and fit into the new normal, as it continues to unfold.
Here are three things you should know.
#1. They're not stockpiling.
A full 24% of buyers have stopped stockpiling. Across the board, consumers are spending less on grocery items than they did at the start of April.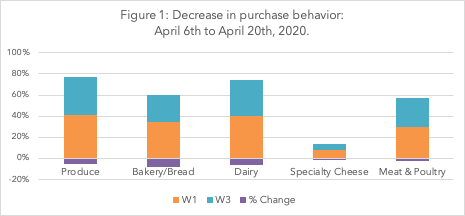 Figure 1 shows the decline as shoppers have started to buy fewer staple food items.
This change in behavior comes at the same time as the economy has slowly started to reopen.
#2: They're feeling safer.
Shoppers are going into stores anyway. They're now significantly more likely to report shopping in a store, regardless of the safety measures that are in place. This was not the case even a week ago.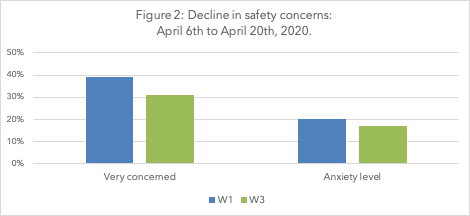 In fact, 32% say they will shop a store with or without safety measures; up 5% in one week.
We're also seeing more buyers in-store with their spouses and kids; up 7% in two weeks.
In Figure 2, we can see that their concern and anxiety levels have started to go down as well.
#3: They're getting by.
This hasn't been easy on anyone. Buyers are unemployed, as of this post, the rate is 34%. But they are still spending, they're just pinching pennies where they feel like they need to.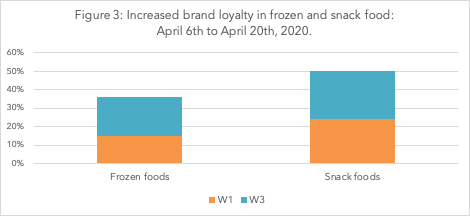 Right now, that means being price sensitive in pet care and personal care products, down 27%.
As well as in sweets and toilet paper, down 12%.
On the other hand, consumers are being loyal to frozen food and snack brands, where there's an 8% increase in brand-driven purchases.
What's next?
We're seeing positive signs in spending.
As the economy continues to open, it is essential to track consumer behavior, particularly as we've seen 72%1 of shoppers trying new brands in-store, while looking for what they need.
Each week, we track our consumers' in-store shopping habits. If you want to know the impact on your marketplace, ask our panel any question about your brand. For more on the research report, or for assistance, email solutions@mfour.com.
References: