It's here.
California finally has a reopen date — June 15, 2021 — a full 15 months from the start of state-wide lockdowns. There will be rules, of course. But, it's a beacon of hope, one that buyers have been waiting a year for.
Let's see their feedback, and get a few stats on the consumers we surveyed, who live in CA.
#1: They're ready.
A full 56% say: this is it.
They believe California will meet its projected date of June 15th and fully reopen. And, 47% are in favor of the date. Within this group, 28% strongly agree with the decision, and feel that "it's about time."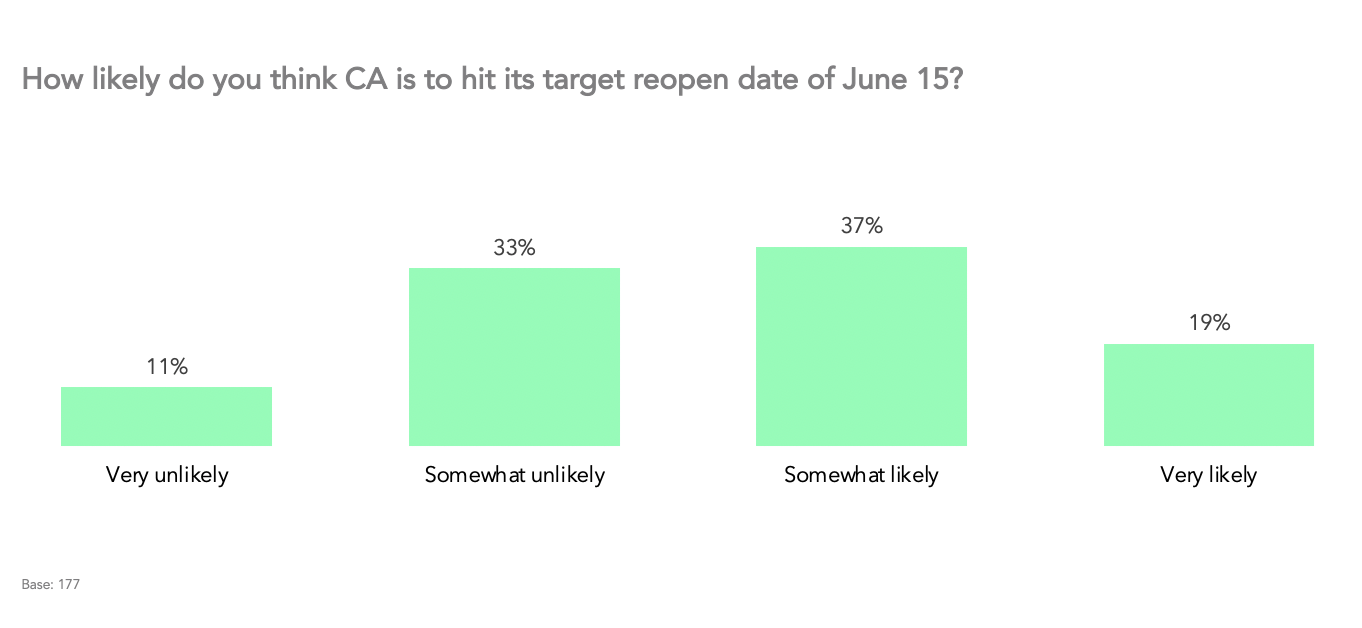 But, not everyone agrees.
Those who're uncomfortable, just aren't ready — 74% of this group say they want to know that COVID is no longer a threat before the state reopens. That may not be possible. Many expect the virus to be a problem as long as there are variants, plane rides, and delays in vaccination.1 There's still a lot to study.
Yet, consumers have hope.
#2: They're vaccinated.
As of this article, 29% have been vaccinated.
It's helping them to feel safe. A full 77% who've had the vaccine feel good about a reopening. There's a correlation here, between having the vaccine — and being ready for the state to reopen.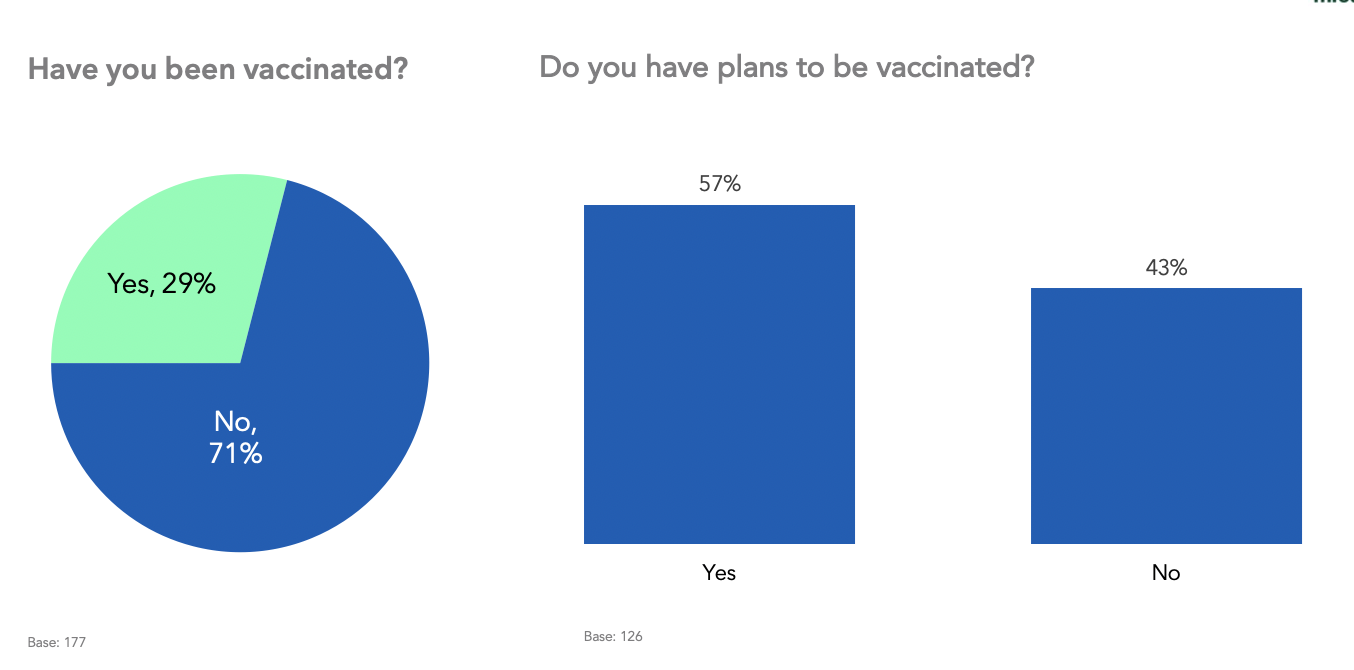 And, many more, have plans to get it.
In fact, 57% who haven't had the vaccine, have plans to get it. Their timing is good. Starting this week: April 15, all Californians, ages 16 and above are eligible to get the shot(s).2
Anyone who wants it can have it; before the week's over. And, based on what we're seeing, that fact will go a long way to help Californians feel comfortable with the state's plans.
#3: They have plans.
They're making up for lost time.
Californians want to spend. It's why 60% plan to go back to places they visited before the pandemic started — as early as a few weeks after the reopening. And, 58% say they'll go back to shopping in-store more often.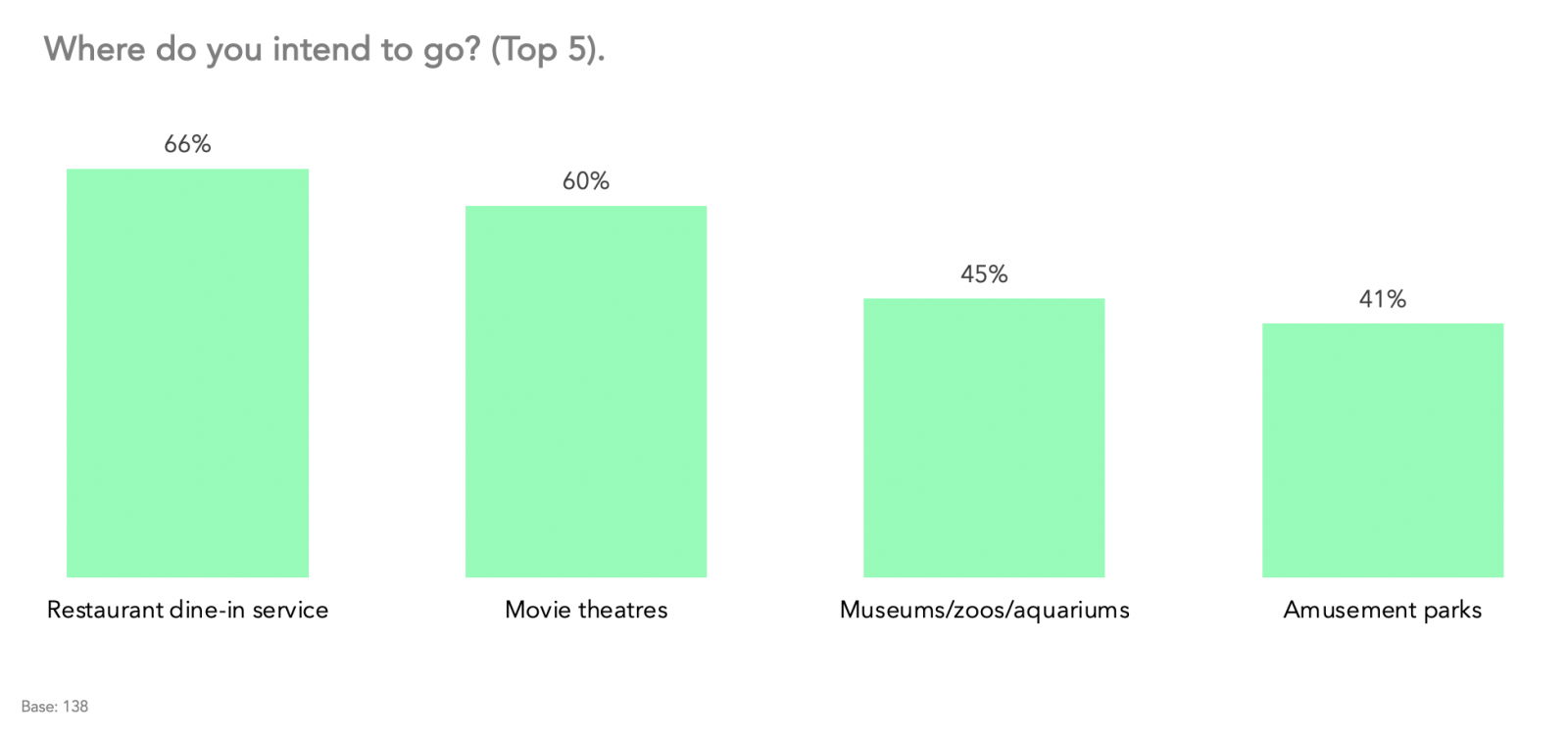 Many will start with restaurants.
What used to be so normal, was missed by so many of us, once indoor dining was shut down. So, 66% plan to start venturing by dining in again. And 60% will go to the movies. After all, who doesn't love salty, butter popcorn — and entertainment. Many counties can do these now, but not all.3
Then, they'd like to spread their wings.
#4: They will travel.
It was the first thing to go.
A year ago, airport traffic plummeted. But now, flyers are ready to ride, 42% plan to vacation in the U.S. within 3 months of the reopen date. For the most part, they're not ready to go international, but 53% say that they'll feel safe flying on a plane. And another 69%, will be comfortable staying at a hotel.
Do you have plans to vacation in the U.S. within 3 months of June 15th?
That's not all.
They've held out. Many have been waiting to buy cars, houses, even couches — until they knew what would happen with the economy. So, 23% plan to make large purchases, once things open back up. This means you can expect to see a little bump in the summer, as people start to open their pocketbooks again.
Need research? Send us an email.
References:
https://www.latimes.com/california/story/2021-03-25/all-california-adults-covid-vaccine-eligible-april