It's 3:22 pm.
Tuesday. The kids are at school. I'm at work. But, my husband has the day off, so he texts me to ask what I want. I smile and send him my Target list. This man loves to shop Target.
He's not alone.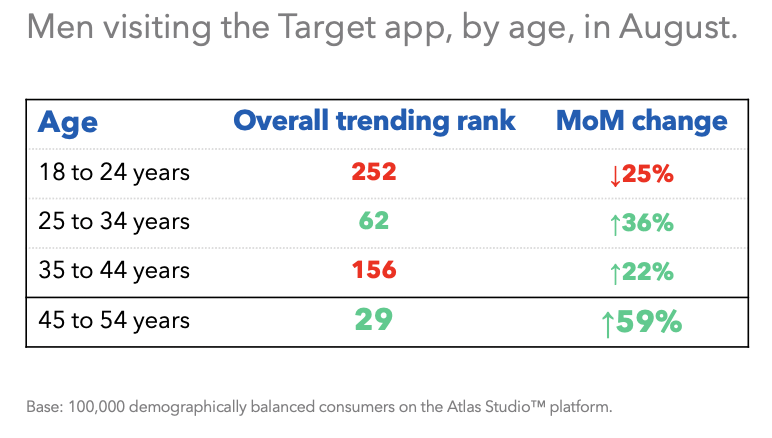 Gen X men are all over the Target app.
Look at that.
Men ages 25+ swarmed the Target app last month. The overall trending rank is great in each bracket, especially 25 to 34 and 45 to 54-year-olds. I mean, who would have guessed the highest age bracket would have such strong numbers?
Nice job, Target.
So, is this a thing then — are men more into apps than stores? Well, 84.3% of men buy online, compared with 77% of women.1 So, that's notable. Plus, this is an app we're talking about, it takes more effort than a purchase from behind your laptop at work … I see you… 😉
Apps take effort.
They have to be downloaded. You need to want them on your phone. Because once you have the app, you're either putting up with all their notifications (Target sends a lot) or turning off your app settings. It's a lot more dedication than spending money on your company's dime.
So, why are Gen Xers into apps?
They're smart.
Really.
This is the generation of early internet adopters. Most of them are as comfortable on mobile as Millennials are. And, they're more established in life. So, they're good at doing research to get deals. That's a natural profile for a person wanting to download a Target app.
Sure, this is only a month's worth of data, but you can start to see a trend after only two. So, if you're curious to see how this plays out, check out the platform powering the data.
Or, just come look at Gen Z.
Gen Z men spent August shopping in Target.
Wait, what?
Bet you didn't see that one coming. Don't worry … I didn't either. No judgment. It's just, wouldn't your immediate reaction be to expect that people who are older — read, have spent their whole lives shopping that way – be more likely to go in-store?
This is why we need data.
And the data is showing us that at least in the month of August, Gen Zers increased store shopping more than they increased app shopping. Want to see how it plays out over time? Check out Persona Views™.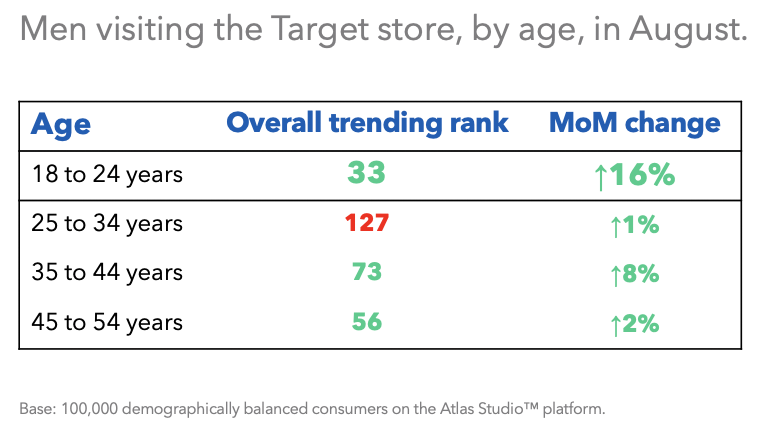 Marketing is so much more than guesswork.
Anywho, I'll step off the soapbox now, and get back to the data. Let's look at our young men. Fresh out of high school and college, keeping the numbers strong inside the store. They're at an overall trending rank of 33 and a month-over-month change of +16%. Surprising.
So…
What's causing young men to shop in-store?
While you use the link above to look that up, I'll tell you my thoughts. First off, this age group is probably getting ready to go back to school. They may find it easier to do that in-store, where they can see what they need for classes and grab what they're looking for.
To really know if this trend is going to stick, you should check back next month.
But, there's more here too.
We know that Gen Zers like the nostalgia of shopping in-store. On Black Friday, 2020 we did research to see if people would still go in-store. We found this age group liked the chance to see and touch their items. They likely went with their parents growing up and enjoyed the tradition.
It shows.
So, while you could write this one off as a one-month blip, it's probably a trend. Buyers want more flexibility. That's what an omnishopper is, and Gen Z, well, they love a good deal as much as I do. They like it so much, in fact, they're willing to drive to the store to get it.
Yes, I saw that, too.
You're wondering about the older generation we saw on the apps, huh? Target is cleaning up in Gen X (ages 41-56 years old).2 They're on the app, shopping in-store, it's a great story.
But, why?
Well, you can look at the data on your own. But, the truth is, Gen X accounts for just over 25% of the country's wealth.3 That means they have more money to spend than Millennials or Gen Z. And Target is doing a great job encouraging this group to spend their money with their store.
What's up with Millennial men?
They don't have time.
Millennial men were too busy working to go in-store last month. You probably already know that Millennials now make up the largest portion of the workforce. Yet, only have 5% of U.S. wealth.3
Stores take time.
You have to walk through aisles, look through prices, you may even lose track of time. Sounds great if you're a mom of two kids (yes, please! 🙋‍♀️) but, definitely a time suck. So, that's likely why you see the younger Millennials spending less time in Target, with a trending rank of 127.
Is it a fluke?
Not if you go back to that first graph. That same 25 to 34-year-old age group is right behind our Gen Xers at a rank of 62 and MoM increase of 36%. They're not just shopping in-store less often, they prefer to buy online.
Now what?
You're looking at basic personas.
This is a framework of the type of person you can expect in each market segment, as told through Target. It should give you a basic idea of who your market is as well. And, you don't have to stop there. You can see an entire consumer journey — for free — on MFour Studio.
Be my guest.
Take this 7-day trial and get granular on your own target market, no pun intended. 😉
References:
https://www.adglow.com/blog/pt-br/e-commerce-men-spend-more-than-women#:~:text=A%20recent%20study%20by%20Affilinet,compared%20with%2077%20%25%20of%20women.&text=On%20the%20other%20hand%2C%20women,likely%20to%20make%20impulse%20purchases.
https://www.kasasa.com/exchange/articles/generations/gen-x-gen-y-gen-z#:~:text=Gen%20X%3A%20Gen%20X%20was,between%201981%20and%201994%2F6.