It's happening.
As the economy re-opens, the Wall Street Journal says more than 75% of the largest U.S. companies are seeing higher revenue now — than before COVID-19.1
Whoa.
Before you pull out a B.S. meter on that statement, hear me out. You're seeing what Darwin likes to call evolution, and it's backed by data. Business is changing, because of the pandemic. So, not only are employees making waves, these big companies are too.
Which is a bit more exciting than watching a bunch of birds — finches, really.
But, hey, maybe that's just me.
Anywho . . .
Here's why.
Lockdowns, plus a little bit of boredom, created a perfect storm.
Stuck at home, and still scared to visit the store, buyers turned to their phones for retail therapy. They spent money — a lot of it, actually. And, in response, businesses scaled up their e-commerce abilities to meet customer demands.
But, did things change permanently?
Let's see.
Forbes paints Belk as the nation's largest privately-owned department store chain.2 That means, it's a perfect specimen for us to sample.
Here's what their store visits looked like — last month, alone.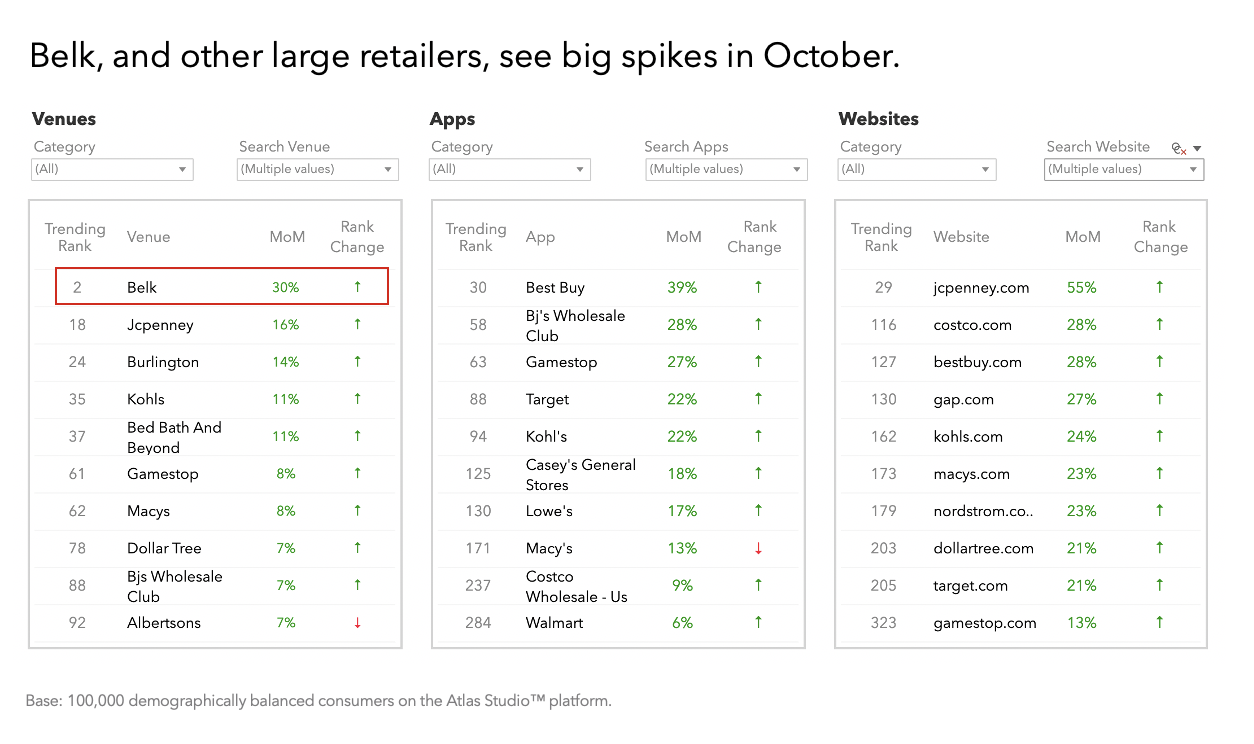 That's a nice spike.
And it's trending at a significant pace. Month over month, Belk is up 30% with a trending rank of #2 venue for the month of October. Now, you may try to point out it's the holiday season, so of course, we'd see more foot traffic at these retailers.
Not so fast.
Traffic in retail stores was down 22% to 25% year over year in 2020.3 So, that indicates this is more than just a "nice time of year" here. It's a larger trend. What you're likely going to see next is eCommerce staying strong, as in-store sales go back up.
Permanently.
That, my friend, is how we get the economy back on track.
Now what?
Well, it's time to advertise.
Yes, I mean ad planning. You now know there will be more sales next year. That makes this the perfect time to think about ads. Put your brand in the minds of spend-happy consumers by investing in a fantastic ad campaign — and you'll make more money.
So, here's a 7-day free trial to see where your consumers are spending, right now.
References:
https://www.wsj.com/articles/how-the-biggest-companies-have-fared-during-the-covid-19-pandemic-11630229403
https://www.forbes.com/companies/belk/#:~:text=Belk%2C%20founded%20by%20William%20Henry,privately%20owned%20department%20store%20chain.