You're bored.
Sitting on the couch, flipping through your phone with so many thoughts, all refusing to settle down. Your brain is a drunken fly in an empty room — begging for attention.
Enough.
You slip on a pair of snow-white headphones. There. The stress slides off your shoulders, turns, and heads straight out the door. A smile steps in, as you snuggle into the couch, and start your favorite show.
It's an escape.
Entertainment is worth its weight in gold, which is why consumers love it. So, which entertainment apps are they into, and how can you use the data? Well, let's take a look.
What do you see?
Top 10 trending apps in August.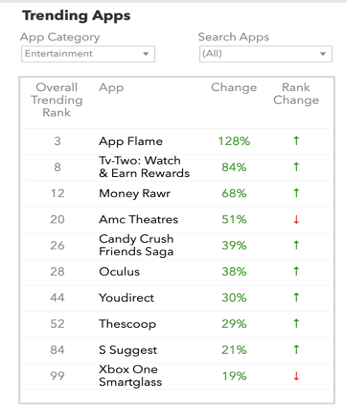 A theme.
Up 128% from last month, App Flame holds the highest rise in engagement. It's followed by Tv-Two (↑84%) and Money Rawr (↑68%) — all offer ways to earn — cash, crypto, or gift cards.
Consumers care about cash.
And entertainment apps are a great way to get cash — surprise, surprise. Talk about killing two birds with one stone. There's more. These buyers are also willing to walk outside…
Check it out.
AMC Theatres is up 51%, and YOUDirect 30%. Both apps want you to leave the house. YOUDirect is a drone app and AMC Theatres is for movie go-ers, of course. In both cases, their popularity proves buyers are out and about — giving well-timed hope to retailers who are still struggling to pull in funds.
It's time to socialize.
No, not at the local bar, like you used to do. This is all happening in an app. We're watching as people socialize on XBox Smartglass (↑19%) and Candy Crush Friends Saga (↑39%). Both allow interactions with friends, which if you're social distancing — is a great way to stay engaged.
Let's follow them in…
How to use the data — an 'app'lication.
I couldn't help myself 😉
All right, time to focus on you again. The reason app research is important is that it's in the moment. You're building a real-life model of your ideal consumer as they take actions you want to see.
Picture this.
A buyer leaves your app. Instantly, they get a survey asking — what'd you think of the experience? Or, better yet — did you notice any ads while you were there?
That's powerful.
You can find and solve app issues instantly. All while connecting to consumers who are taking the actions you desperately need to see to build a strategy. So, whether you make consumer goods, are in healthcare, or the entertainment space…app research is a game-changer.
Next up — your website.
Apps can't have all the fun.
You've got a website to work on too. So, we'll take a look at web trends in the entertainment world. And share a few of the things you might like to know about too.
Here's what we found.
News.
I know…I know, you're tired of negative news, and (I am too!). But, all that juicy gossip in gaming, entertainment, and tech — oh, I'm here for that, my friend.
So are your consumers.
They're escaping.
Gamerant (↑148%), Gizmodo (↑101%), Looper (↑96%), and Insider (↑84%) are leading the pack. These brands are vying for news-hungry consumers who can't bear to turn on the television. And, can you blame them?
Now's a great time to pry eyeballs away from the negativity.
It's working.
Viewers are also knocking down the doors of The Daily Beast (↑53%), It's the Vibe (↑52%), and Dexerto (↑43%). As news ratings plummet1, these sites are still coming in hot.
Top 10 trending websites in August.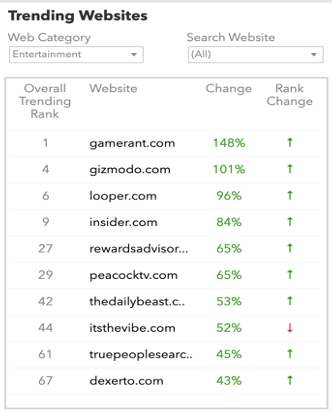 YOLO.
People may not want the real news, but you only live once. They want out of the drama, but not out of the loop. To read fluff, not the real stuff — and that's okay.
So, what happens once they get bored…is it time for TV again?
Not so fast.
That oh-so-handy mobile phone wants more of your mind share. So, as soon as they're done with the "news", consumers are on to Peacock (↑65%), catching the latest binge-worthy shows. After all, it's simpler to stream movies and TV on your phone than it is to stay glued to a TV.
Plus, you know, there was the British Open and then the Olympics…🤔
So, should Netflix be worried?
While you ponder that, think on this too. The next big trend is entering a sweepstakes. Yes, you heard right. Remember how consumers were cashing in on apps earlier? Well, the same holds true for their website use too. They're on Reward Advisor (↑65%) right now, looking for loot.
That's not all.
They're snooping around. After they've finished racking up rewards, like so many pirate-worthy bounty hunters, your consumers are ready to people watch. Of course, not in the traditional sense, because, what fun would that be?
These guys are busy stalking online — True People Search is up 45%.
Guess everyone wants to know what their exes are up to. After all, we've been heavily locked down for nearly 18 years — sorry, 18 months. It just feels like longer.
Long enough to makes you wonder if they've really moved on…
They have.
Now what?
You can too.
So let's wrap up, with consumer behavior on the web. Like apps, websites carry valuable data on your buyers. Little pearls like what they were doing an hour before they hit your site. With them, you can construct a perfect path to purchase — with your brand right in the center.
Or…
Pull a power play. Watch buyers as they hit your competitor's site. As they leave that URL, find out why they went to the dark side. Ask about their customer experience, and what it is they were missing from you. Then, swoop in to save the day for future buyers — with that data.
Start with a free 7-day trial.
You're welcome 😘
References: